Afghan policemen die in attack in Ghazni province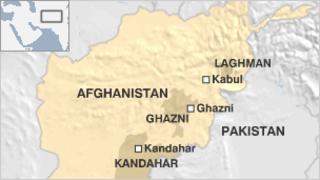 At least six Afghan policemen have been killed in an attack on a checkpoint in Ghazni province, officials have told the BBC.
The attack took place in the Qarah Bagh district, about about 120km (75 miles) south-west of the capital, Kabul.
The attack, which started on Wednesday morning, is still continuing.
Meanwhile the Taliban say they have carried out an attack at the main airport in Kandahar, where thousands of foreign troops are stationed.
A Taliabn spkesman told the Afghan Islamic Press that the attack caused "human and financial losses". However Nato says that the attack caused little damage and no casualties.
The latest violence comes just hours before US President Barack Obama is to unveil plans for an initial withdrawal of thousands of US troops from Afghanistan.
On Wednesday evening, he is expected to say on a prime-time TV address that 30,000 "surge" troops will begin leaving in July, according to US media reports.
The US currently has about 100,000 troops in Afghanistan.