India: Five suspended over 'mysterious' death of doctor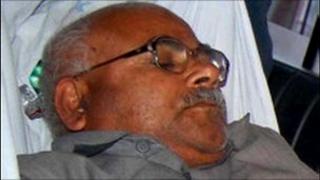 Five prison officials in India's Uttar Pradesh state have been suspended over the mysterious death of a senior health official in jail.
YS Sachan was found dead in a prison in the state capital, Lucknow. Officials said he had committed suicide.
But the post-mortem report said that the body had a number of marks, which appeared to be caused by a weapon.
Dr Sachan was charged with plotting the murder of two health officials. He was arrested in April.
Investigators believe that the murders were connected to the theft of funds from a rural health programme in Uttar Pradesh.
Dr Sachan was accused of plotting the murders of two health officials, Vinod Arya and BP Singh. Dr Arya was killed last October and Dr Singh was killed in April.
Uttar Pradesh authorities said the prison chief and four other staff had been suspended for failing to prevent the death of an inmate.
Dr Sachan was found dead in the toilet of the prison hospital on Wednesday night.
The post-mortem report said there were at least eight injury marks on his body "caused by a sharp edged weapon".
The government insists it is a case of suicide, but Dr Sachan's family and opposition parties say he has been murdered and have demanded an independent probe.