Jyotirmoy Dey: India police arrest seven for murder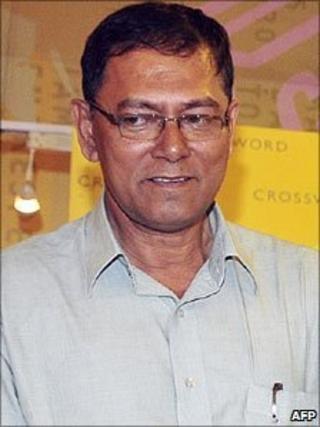 Police in the Indian city of Mumbai (Bombay) have arrested seven men in connection with the killing of a prominent crime reporter.
Jyotirmoy Dey, who worked for the Mid Day newspaper, was shot dead by four men on motorcycles on 11 June.
Police said the killing was carried out on the orders of a notorious underworld gangster, known as Chhota Rajan.
Since his death, journalists in the city have held protest marches, seeking greater protection from the government.
The Committee to Protect Journalists said 27 journalists have been killed in India since 1992.
Most victims were print journalists covering politics, business and corruption.
The seven men appeared in a city court, which remanded them to police custody until 4 July.
Earlier the city's police chief Arun Patnaik told a press conference that the case had been "totally cracked".
"There was tremendous pressure on Mumbai police to crack the case and we have finally made a breakthrough," he said.
Joint Commissioner of Police Himanshu Roy told the press conference how the conspiracy to kill Mr Dey was hatched and how the murder was committed.
Mr Roy said they had seized the murder weapon, the vehicle used for the crime and 10 mobile phones from the arrested men.
Mr Dey, 56, was one of Mumbai's top journalists reporting on crime and had worked for leading newspapers like The Indian Express and the Hindustan Times, before joining Mid Day as the investigations editor.
He was returning home on his motorcycle when he was shot dead by men on motorcycles, who sped away after the incident.