Bangladesh sentences 2009 mutineers in mass trial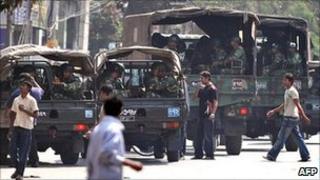 A court in Bangladesh has imprisoned more than 650 border guards for their role in a 2009 mutiny.
More than 70 people - many of them officers - were killed in the uprising over pay and conditions.
The mass sentencings are unprecedented because never before have so many people been convicted on the same day, a prosecutor said.
It took took three hours to read out the sentences against those convicted, all of whom were present in court.
Officials say about 3,000 mutineers have now been sentenced for the uprising.
Special courts
The mutiny erupted at the Bangladeshi Rifles (BDR) headquarters in the capital, Dhaka, and lasted 33 hours.
Other BDR units followed suit across Bangladesh, in the worst armed forces mutiny in the country's history. At least 57 senior army officers were killed, their bodies dumped in sewers or shallow graves.
"A total of 667 guards of the 24th battalion were charged. One died during the trial and nine were acquitted. Among the 657 who were jailed, 108 guards got the highest prison term of seven years," prosecutor Shahnewaz Tipu told the AFP news agency.
Dozens of special courts - run by the army using a mix of martial and civil law - were set up to prosecute mutineers, with the first 29 defendants being found guilty in April 2010.
The courts do not allow those in the dock to have lawyers, and can hand down a maximum sentence of seven years in jail. There is no right of appeal.
Soldiers accused of additional offences considered more serious - including murder, looting and arson - are being tried separately in civilian courts, and can face the death penalty if convicted.