Indian PM Manmohan Singh denies 'lame duck' charge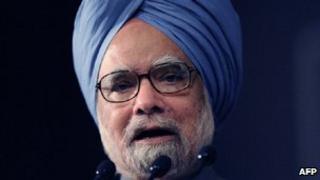 India's Prime Minister Manmohan Singh has dismissed opposition criticism that he is a "lame duck" leader.
In a rare meeting with media editors, he said "truth will prevail" and his performance would speak for itself.
Mr Singh has come under fire over corruption scandals involving cabinet ministers, as well as rising inflation.
Media reports have criticised him for "being silent" on these issues. Mr Singh told editors the media had become "accuser, prosecutor and judge".
Mr Singh told the meeting that the "lame duck" tag was "clever propaganda of the opposition to which some sections of the media had lent their ear", state-run Doordarshan News reported.
"He agreed that there was a perception [of crisis] but that the perception is wrong... he is not a lame duck prime minister," Kumar Ketkar, one of the five newspaper editors present at the meeting, told reporters.
Mr Singh also said that whenever the Congress party "makes up its mind I will be very happy to step down, but so long as I am here I have a job to do".
The media-shy Mr Singh has held very few meetings with journalists since coming to power in 2004. Reports suggest that he now plans to hold regular interactions of this kind to try to improve his standing.
Consensus
The prime minister said he was working on a consensus with civil society representatives over strong anti-corruption laws.
Campaigners who are jointly drafting a new anti-corruption ombudsman bill with the authorities have criticised the government for "not being serious" about it.
There have been differences over whether the prime minister would be investigated under the new ombudsman.
"The government would reach out to the civil society but no group can insist that their views A to Z are the last word," Mr Singh reportedly said.
He said he had "no hesitation" in bringing himself under the purview of an ombudsman.
But he added that many of his cabinet colleagues felt that giving the ombudsman such powers would create "an element of instability which can go out of hand".
Correspondents say the media interaction was an attempt by the prime minister to improve the image of his party and the government.
In another rare appearance before the media, Mr Singh admitted at a press conference in February that a series of damaging scandals had affected the standing of his Congress-led government.
The government is accused of losing billions of dollars by underselling telephone licences. Preparations for last year's Commonwealth Games were also dogged by corruption claims.
More recently the government was accused of being heavy-handed when police broke up anti-corruption protests in Delhi earlier this month. At least 30 people were injured and government critics said free speech had been denied.