Kabul attack throws spotlight on troop pullout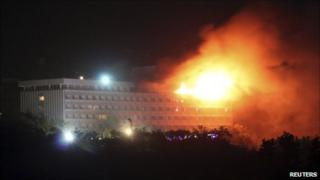 The attack on the Intercontinental Hotel in Kabul will not act as brake on the planned withdrawal from Afghanistan of US and other International Security Assistance Force (Isaf) troops.
Those decisions have been made and were trumpeted a fortnight ago by US President Barack Obama.
Ten thousand US troops will "leave theatre" during the next 12 months, and a further 23,000 will be pulled out by September 2012, he said.
The British military has the second largest number of troops in Afghanistan after the US; current force levels are 9,500.
British Prime Minister David Cameron has said UK troops will withdraw from combat roles by the end of 2014, and that about 400 soldiers will be withdrawn in the next eight months. France has also announced a steady withdrawal.
'More risk'
This decision by the US president to cut force numbers was made in his words "from a position of strength", with much of the mission in Afghanistan accomplished.
However, many believe, not least some US senior military commanders, that other factors like cost and public opinion at home weighed more heavily on the thinking of the US administration.
Adm Michael Mullen, chairman of the Joint Chiefs of Staff, Gen David Petraeus, the US commander in Afghanistan, and Gen James Mattis, US Central Command chief in the Middle East, have all indicated they would have liked to keep more troops on the ground for longer.
Adm Mullen told Congress that the president's plans were "more aggressive and incur more risk" than he originally envisaged.
Gen Petraeus thought it was wrong to cut the number of combat troops too soon and wanted to keep Taliban insurgents under pressure throughout next summer's "fighting season" as well as this year's.
Mr Obama authorised a surge of more than 30,000 combat troops in Afghanistan in December 2009. This took the total number of US forces in the country very close to 100,000, but it was always intended to be a temporary measure.
The plan remains to draw down coalition troop numbers, while at the same time helping Afghan forces through recruitment and training to fill the security vacuum.
If the hotel attack was intended to draw attention to the inadequacy of Afghan forces' lack of readiness to handle security then it could hardly have been better planned.
'Far from beaten'
Hotels and other public buildings in Kabul are supposed to be surrounded by intense security.
The bar was raised in 2008 when seven people were killed in an attack on the Serena Hotel in the city.
But it appears that the ring of steel was fairly easily penetrated. And it took the intervention of a coalition attack helicopter to bring the militant attack to a close.
Isaf is maintaining relentless pressure on the Taliban and other militant outfits and is killing "hundreds" of middle-ranking commanders in daily "contact" in southern Afghanistan.
But the Taliban and the Haqqani network are neither defeated nor demoralised.
The attack on the hotel and the assault on the Afghan defence ministry in April serve as reminders that they are far from beaten and now they have a timetable to work to.
They know the enemy has started to leave the country and plans to withdraw its fighting forces completely over the next three years.
The US and coalition allies entered Afghanistan post-9/11 to prevent the country from being used as a haven for al-Qaeda leaders and operatives.
Whether that capacity will remain in three years' time is open to question.