India: Security plan ordered for treasure temple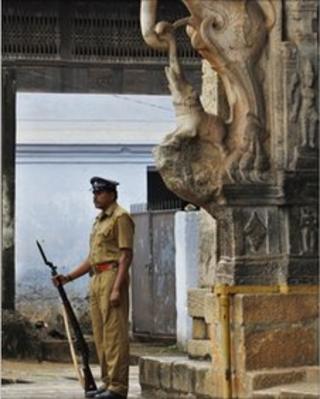 Officials in the Indian state of Kerala are drawing up a security plan for a temple where vast amounts of treasure are reported to have been found.
The Supreme Court wants to know how the riches will be kept safe before a sixth vault is opened, possibly next week.
Media reports say the treasure at the Sree Padmanabhaswamy Temple in heart of the Keralan capital, Trivandrum, could be worth billions of dollars.
Historians say it is almost impossible to assess the treasure's true value.
The Supreme Court directed the state of Kerala and the former royal rulers of the region to explain how they plan to safeguard the gold, silver and precious stones found so far.
Five temple vaults have been inventoried but the sixth and last chamber - which has an iron wall and was last opened 136 years ago - is said to contain much more.
"The temple and its treasures are important for us and it's our duty to provide adequate security for them," Kerala Finance Minister KM Mani said.
Metal detectors
Some 45 plainclothes personnel are stationed inside the temple, where non-Hindus are not allowed. Sixty-five policemen are on guard outside and mobile patrols are operating around the clock.
"We have asked the policemen to do patrolling without harming the traditions of the temple and making difficulties for the devotees," said Venugopal K Nair, additional director general of police, who is in charge of the temple's security.
Metal detectors and security cameras have been installed at the complex, which until last week relied on security guards.
The riches are thought to have been languishing in the temple vaults for more than a century, interred by the Maharajahs of Travancore over time.
India's Supreme Court ordered the inspection of the vaults after a local lawyer went to court questioning temple security. He wants the treasure taken over by the state government, a suggestion opposed by the current Maharaja of Travancore.
The former royal family, trustees of the temple, believe the treasure belongs to the deity, Padmanabhaswamy, who is considered by devotees to be an aspect of the God Vishnu in eternal sleep.
"The royal family is not claiming any ownership. It is a public temple," said KK Venugopal, the family's lawyer, the Associated Press reports.
The objects inside the vaults have so far not been shown to the public, but they have been photographed and filmed for security reasons.
Hindu activists say the treasure belongs to the temple, while others want the riches used for the public good.