Bodies of six kidnapped Afghan deminers found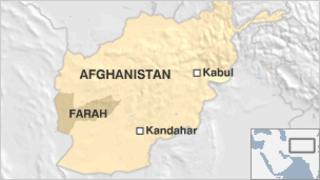 The bodies of six Afghan deminers who were kidnapped last week have been found, officials have said.
They were among a group of about 30 seized in western Farah province. None have been released.
Elsewhere, three foreign troops were killed in separate incidents, while three Afghan police officers were killed by a roadside bomb in Kandahar.
The deaths follow those of two US soldiers on Saturday, killed by an Afghan intelligence officer.
Afghan police officials said the bodies of several of the deminers had been recovered, while others were with tribal elders.
The group was kidnapped on 6 July. The Taliban have been blamed but a spokesman for the insurgent group said they were not involved and bandits had seized them, Reuters news agency said.
Dozens of Afghans and foreigners have been kidnapped in Afghanistan in recent years, but most are freed in exchange for a ransom or a prisoner release.
Attack on police
Two of the foreign soldiers were killed in a bomb blast and an insurgent attack in southern Afghanistan, while the third was killed in an attack in the east of the country, the Nato-led International Security Assistance Force (Isaf) said on Sunday.
Isaf did not release other details, such as the nationalities of the soldiers killed, pending notification of their families.
And in Kandahar city, a roadside bomb struck a police vehicle, killing three officers and wounding three other officers and three civilians, Kandahar provincial police chief Abdul Raziq said.
Saturday's killing of two US soldiers by a member of the Afghan intelligence service (NDS) is believed to have followed an argument between them.
Afghan soldiers and police have turned on Nato-led troops in the past, but it is thought to be the first such incident involving an NDS member.