Afghanistan: US Gen John Allen warns of 'tough days'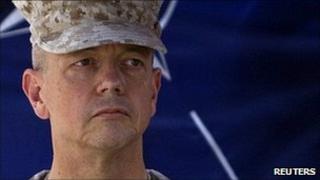 The US general who has taken over as commander of international forces in Afghanistan has warned of "tough days ahead" in the military campaign.
Addressing troops at a handover ceremony in Kabul, Gen John Allen said he had "no illusions about the challenges we will face together".
Insurgents have stepped up attacks on troops and senior Afghan officials.
Gen Allen has taken over command from Gen David Petraeus who is returning to the US to run the CIA.
Gen Petraeus oversaw last year's surge of US troops to Afghanistan.
The change in command comes as the Nato-led International Security Assistance Force (Isaf) begins passing control of some areas to its Afghan counterparts.
Foreign troops are due to end combat operations in Afghanistan by 2014.
Despite the transition, attacks by militants continue to claims lives. On Monday three Nato soldiers were killed by a roadside blast in the east of the country.
Seven Afghan police officers were also killed in the district of Lashkar Gah, in volatile Helmand province, on Monday, Afghan officials said.
'Challenges'
"It is my intention to maintain the momentum of this campaign, this great campaign on which we have embarked," said Gen Allen.
"I will continue to support, in every way possible, the recruiting, the training, the preparation and the equipping and the fielding and employment of Afghan national security forces."
He added: "There will be tough days ahead and I have no illusions about the challenges we will face, challenges we will face together but I have this certainty that brave men and women of 49 nations shoulder-to-shoulder, will, with our Afghan partners, continue this great work."
Gen Petraeus took charge in Afghanistan last year and managed the deployment of more than 30,000 additional US troops to fight the Taliban. US troops are set to begin the first phase of their withdrawal in the coming months.
A spokesman for the governor of Helmand said seven members of the Afghan National Police Force were killed by gunmen at a checkpoint in Lashkar Gah on Monday.
Central Lashkar Gah is due to be handed over by British forces to Afghan control on Wednesday.
The spokesman said the attack took place just outside the area due to be handed over.
Also on Monday, Canada's most senior officer in Afghanistan, Brig Gen Dean Milner, flew out of Kandahar with the last of Canada's combat troops there. Some Canadian forces will remain to help train Afghan troops.
Nato forces handed control of Bamiyan province to local forces on Sunday.
It was the first of seven areas to be passed to Afghan security forces under the plan announced by President Karzai in March.
On Sunday a close aide to President Karzai, Jan Mohammad Khan, died in an attack in Kabul.
The incident came less than a week after Mr Karzai's brother, Ahmed Wali Karzai, was assassinated.