Aid workers kidnapped in south-west Pakistan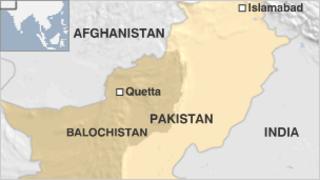 Gunmen have kidnapped eight Pakistani aid workers near the Afghan border in south-west Pakistan, officials say.
The workers were abducted late on Monday in Pishin district, some 50km (30 miles) north of Quetta, capital of Balochistan province, reports say.
A district official told the AFP news agency that the kidnapped men were working for an American NGO.
They were returning after distributing food at an Afghan refugee camp near the border when the incident happened.
"Their vehicle was intercepted and they were kidnapped at gunpoint. Their vehicle was also taken," the official, Abdul Mansoor, said.
There have been a number of kidnappings in Balochistan, where insurgents have been fighting for more autonomy. The Taliban are also active in the area, which borders Afghanistan.
Earlier this month a holidaying Swiss couple was seized by gunmen in the Lorali district, north of Quetta.