Afghan police and insurgents in Kandahar gunbattle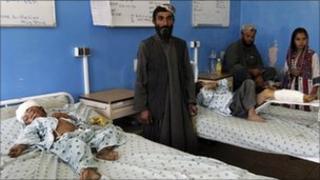 A fierce gun battle between Afghan police and insurgents in Kandahar has left at least three police dead.
The interior ministry said officers came under fire when they surrounded a house in the southern city where two insurgents were said to be hiding.
Meanwhile, four civilians were killed in a bomb attack in the northern city of Mazar-e Sharif, which is to be handed over to local control this week.
In the southern city of Ghazni, bombs killed four people late on Tuesday.
The twin explosions left two dead on the spot, while two more died of their injuries, police said on Wednesday. Another 20 people were reported wounded.
Civilians have borne the brunt of worsening violence in Afghanistan in recent years. The first six months of 2011 were the bloodiest for Afghans since foreign forces invaded the country 10 years ago, a UN report this month said.
Most casualties were caused by insurgent bombings and other attacks.
Homemade bombs
Fighting in Kandahar broke out at about 0830 local time (0400 GMT) and continued for more than an hour, after police attempted to enter the surrounded house.
There was a plan to attack a nearby police station, officials said.
"Our police had intelligence about the presence of some terrorists in a house in District 1. Police besieged the house and ordered the terrorists to surrender, but they refused and started fighting," interior ministry spokesman Siddiq Siddiqi was quoted by AFP as saying.
"In the fighting, both terrorists including a well-known deaf Taliban commander known as Mullah Kar were killed."
Three officers, including the district police commander were killed, he said, contradicting an earlier report that four officers had been killed.
Local residents said the area had been sealed off by foreign forces and Afghan police late on Tuesday.
Mr Siddiqi said homemade bombs and other ammunition had been recovered from the house following the operation.
Police are still trying to work out if the attack in Mazar-e Sharif was carried out by a suicide bomber.
The explosives, carried by a man with a bicycle, were detonated in the Dasht-i-Shor area of the city, the local police chief said.
At least eight others, including two children, were injured.
Mazar-e Sharif is one of seven areas designated to be handed over by Nato to local forces. The handover is seen as a critical step in a transition of power before foreign troops end combat operations in 2014.