Bomb kills oilmen in Pakistani province of Balochistan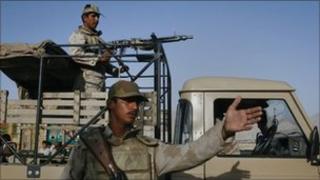 A bomb attack in Pakistan's Balochistan province has killed at least two oil workers and injured seven, medics say.
Police say the oil workers' convoy was attacked near the town of Jafarabad in the south-east of the province.
"It was a remote-controlled device which hit the oil and gas officials' vehicle," senior police official Mohammed Tariq told AFP news agency.
No group has claimed in the attack. Separatist rebels fighting for autonomy have been behind previous attacks.
They want a greater share of profits from Balochistan's vast natural resources.
Taliban militants are also active in the province, which borders Afghanistan.
Officials at a hospital in Jafarabad where the dead and injured were taken say four of the injured are in a critical state.
"We received two dead bodies and seven injured from the blast site," Siddiq Ahmed, a doctor there, told AFP by telephone.
Police say they believe the bomb was attached to a motorbike parked by the roadside near Jafarabad, about 40km (30 miles) east of the city of Jacobabad.
Pakistan's state-run Oil and Gas Development Company (OGDCL) manages several oil and gas fields in the mineral-rich area, and operates under heavy security.