India ex-minister A Raja denies telecoms graft charges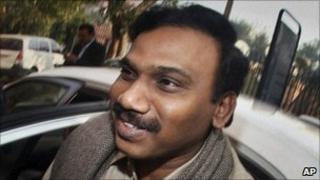 Former Telecoms Minister Andimuthu Raja - who is in jail in connection with India's biggest corruption scandal - has told a court he is innocent.
His lawyer argued that he had acted in accordance with government policy.
Mr Raja is accused of mis-selling telecoms licences, which auditors say cost the country about $40bn (£24.5bn).
Prosecutors say he changed the eligibility criteria to favour certain firms in exchange for bribes in 2008.
His colleague in the southern DMK party, MP Kanimozhi, has also been arrested in connection with the scandal and is in jail.
Ms Kanimozhi, 43, is the daughter of M Karunanidhi, an important ally of the Congress-led federal government.
Both have consistently denied the charges against them.
"If the policy pursued by me was wrong, then all former telecom ministers since 1993 should also be in jail with me," Mr Raja's counsel read out from a statement in court, Associated Press reported.
"There is no case because a case is dependent on witnesses and in this case there are no witnesses," the statement read.
Mr Raja said the decision to sell spectrum on a first-come-first-served basis was taken "collectively".
"How can one man be prosecuted for a decision that was taken collectively?" the statement asked.
Mr Raja is on trial along with several others, including two former civil servants.
Several top company executives have also been arrested in connection with the so-called 2G case.
The telecoms scandal has badly damaged the reputation of the government, which has been hit by a series of corruption scandals.
India has the world's fastest growing mobile phone market, with more than 700 million subscribers.