Mumbai blasts death toll rises to 24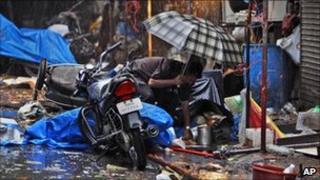 The death toll from the deadly blasts in the Indian city of Mumbai (Bombay) has risen to 24 following the death of an injured man, a doctor said.
The man did not regain consciousness since the 13 July blasts and died early on Monday, KEM Hospital chief Sanjay Oak told the AFP news agency.
Two more wounded had died in a Mumbai hospital on Saturday.
The attacks were the deadliest in India since 2008, when gunmen killed 165 people in a three-day raid in Mumbai.
The three blasts hit Zaveri Bazaar, an area with many jewellery shops, Opera House business district in the south of the city and Dadar district in the city centre.
The 48-year-old man who died on Monday morning was the first to die from the blast that hit a bus stand in the Dadar area, reports said.
No group has said it planted the bombs but some officials and analysts have blamed them on the Indian Mujahideen, a group which claimed to have carried out similar attacks in the past.