'Mother Teresa of Sumanahalli' allowed to stay in India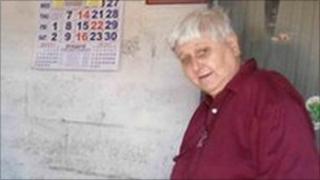 A British missionary involved in social work for almost three decades in India has been dramatically allowed to stay in the country.
Her 11th hour reprieve came at the behest of Home Minister P Chidambaram.
London-born Jean McEwan, known as Sister Jean, has over the years taken care of leprosy patients.
The Catholic nun faced the prospect of having to leave the country on Monday after the government refused to renew her residency permit.
But Mr Chidambaram intervened to restore her visa "without limit of time" - pointing out that the notice for her to leave India was a mistake.
The nun, fondly called as Amma by local people, is often described as the Mother Teresa of Sumanahalli - an area of the city of Bangalore.
"I am absolutely overjoyed," she said.
"All my friends are overjoyed as well. I am very thankful to everyone who helped me. I have been stopped in the streets by the people who said they are praying that you would be able to stay."
Television pictures on Tuesday showed her being greeted by locals in tears. Some women even prostrated before her.
But it was entirely different on Monday when she was ordered to leave India - without explanation - by the home ministry.
"All my friends and colleges were devastated. I was in a state of shock for a quite a while. But now I am happy and excited," she said.
Ms McEwan has been co-ordinating the running of mobile clinics for leprosy patients in Bangalore since 1982.
Although leprosy has officially been eliminated in India, thousands of new cases are diagnosed every year.
Sufferers have little financial support from the government and are often shunned by society.