Karnataka 'mining scam' chief minister told to quit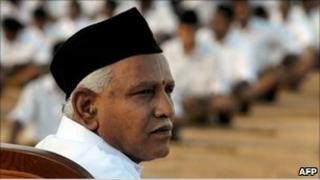 India's main opposition Bharatiya Janata Party (BJP) has told one of its top leaders to resign after an anti-corruption panel named him as a key suspect in an illegal mining scandal.
A BJP spokesman told reporters the party had advised BS Yeddyurappa "to tender his resignation immediately".
Mr Yeddyurappa, Karnataka state's chief minister, denies the allegations.
The anti-corruption report says the alleged scam cost the exchequer more than $3bn (£1.8bn) from 2006-2010.
Correspondents say illegal mining has allegedly been rife for years in Karnataka. The state produces about 45 million tonnes of iron ore a year and exports more than half of it to China.
'Has to be change'
"The BJP parliamentary board unanimously decided there has to be a change in the leadership of the BJP legislature party in the state of Karnataka," BJP spokesperson Ravishankar Prasad told reporters in Delhi.
Later in the day, Mr Yeddyurappa sent a letter confirming his resignation to BJP president Nitin Gadkari, reports in the Indian media said.
BJP leaders and assembly members in Karnataka are to meet on Friday to begin choosing a new leader in his place.
The corruption panel report - officially submitted on Wednesday but widely leaked last week - names several other members of the BJP government, as well as Congress and Janata Dal (Secular) politicians in connection with the alleged scam.
The report details what it says is the illegal transport and export of iron ore from the state.
The embattled chief minister is also facing charges of corruption and nepotism in land deals and is being investigated separately by the courts.
Mr Yeddyurappa belongs to the influential Lingayat community - correspondents say his departure could bring down the BJP's only government in southern India.
The affair is highly embarrassing for the party after months on the offensive against India's governing Congress party, which itself is embroiled in a series of damaging corruption scandals.