India: Activist Anna Hazare rejects anti-graft law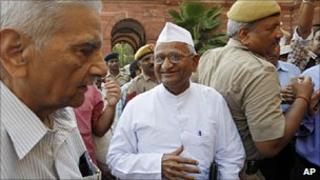 Indian activist Anna Hazare has rejected a proposed new anti-corruption law which has been approved by the government.
Mr Hazare said the Jan Lokpal (Citizen's Ombudsman) Bill was a "cruel joke". He said he would go on hunger strike from 16 August in protest.
The government has refused to include the prime minister and senior judiciary under the purview of the ombudsman.
India has recently been hit by a string of high-profile corruption scandals.
Civil society members, led by Mr Hazare, have been pushing the government for a strong ombudsman that will have the power to investigate corruption charges against the prime minister, senior judges and MPs, among others.
On Thursday, the government approved a draft of the law which allows citizens to to approach the ombudsman with complaints against federal ministers and bureaucrats, who are protected under India's present anti-graft laws.
But campaigners led by Mr Hazare and the main opposition Bharatiya Janata Party (BJP) have criticised the government's decision to keep the prime minister and senior judges out of the proposed law.
"If a prime minister does something corrupt to save his seat and there is no investigation into the corruption, then what does this mean?" BJP spokesman Ravishankar Prasad said.
Mr Hazare, who went on a hunger strike in April to protest against government inaction on corruption, said the proposed law was "unconstitutional".
But federal Law Minister Salman Khurshid said the government had accepted most of the points raised by the civil society members in framing the proposed law.
Some of the recent corruption scandals to have rocked India include a multi-billion dollar alleged telecoms scam, alleged financial malpractices in connection with the Delhi 2010 Commonwealth Games and allegations that houses for war widows were diverted to civil servants.
Critics of the government say that recent scandals point to a pervasive culture of corruption in Mr Singh's administration - adding to the difficulties of a politician once seen as India's most honest.
A recent survey said corruption in India cost billions of dollars and threatened to derail growth.