Mumbai gunman Qasab appeals against death penalty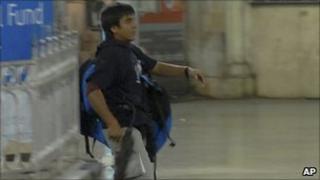 The sole surviving gunman from the deadly 2008 attacks in Mumbai (Bombay) has appealed against his death penalty in India's Supreme Court.
Mohammad Ajmal Amir Qasab filed his appeal through prison authorities, prosecutor Ujjwal Nikam told the BBC.
The attack claimed 165 lives. Nine other gunmen were also killed.
Qasab was found guilty of waging war against India, multiple murder and conspiracy. He was sentenced to death in May last year.
In February, the high court in Mumbai rejecting his appeal against the sentence. It is not clear when the Supreme Court would provide Qasab with legal aid and take up the appeal.
The lawyer who defended Qasab during his trial says he understands why his former client is appealing.
"The law gives rights to all to defend themselves. There's no delay. It's a judicial process," Abbas Kazmi told the BBC.
"Anyone would try to cling on to the slightest hope he has. That's what Qasab is doing."
The 60-hour siege which began on 26 November 2008 targeted luxury hotels, Mumbai's main railway station and a Jewish cultural centre.
Qasab and an accomplice carried out the assault on the station, killing 52 people.
The attacks soured ties between India and Pakistan, with India blaming Pakistan-based militant group Lashkar-e-Taiba for the attacks.
After initial denials, Pakistan acknowledged that the assault had been partially planned on its territory and that Qasab was a Pakistani citizen.
But despite charging seven people in connection with the attacks, the Pakistani authorities have yet to convict anyone.
Relations with India have been slowly improving and the two countries have resumed peace talks.