Pakistanis dread return of deadly floods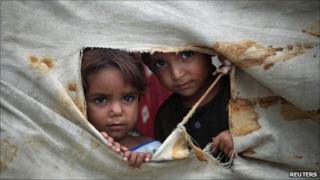 This year's monsoon season has just started in Pakistan. In the village of Sir Darriyya, it is filling people with dread.
Exactly a year ago, residents here spoke of a huge wall of water several feet high that smashed its way through their alleyways and engulfed their homes.
It came without warning as the river nearby burst its banks.
At the time, we travelled here and saw the destruction that had been caused. We met the people who had seen loved ones carried away by the torrents.
'Frightened'
Zarseda Bibi only found her two daughters after days of searching. The bodies of Salma, 18, and Nazia, 15, had been carried more than 3km (2 miles) away.
"I think about those two girls every moment," says Zarseda.
"These last few days I have heard the rain falling and I'm frightened for my children and grandchildren," she says. "We would take them away from this place if we had the money, but we don't."
And so she waits, fully expecting disaster to come again.
Her husband and sons have rebuilt the parts of the house that were destroyed by the floods, and they have made the perimeter wall higher, but Zarseda says she barely cares in any case.
"If I had lost the house and every belonging I had, I could have coped. But there is no meaning to my life without my daughters."
This district, Charsadda, had been one of the first affected, and was an area where the waters had been at their most violent.
Huge bridges nearby were lifted from their foundations, entire villages were all but swept away, and hundreds were killed.
'Living on handouts'
As a massive rescue operation was launched here and across the north-west of the country to save those who had been stranded, the disaster was spreading.
The immense body of water created by the unprecedented rains had started to surge south, submerging vast swathes of land as it went.
"This was not an earthquake or a one-time event," says the UN's humanitarian co-ordinator in Pakistan, Mangesha Kebede.
"This is a flood which literally went downstream and destroyed livelihoods over an extended period of time. Believe it or not, some areas were still under water in February."
In the end, it is estimated that a fifth of the country was flooded, and around 18 million people affected.
Mr Kebede says that in spite of efforts that have been made to resettle the displaced by local and international organisations, there remains a huge amount of work to be done.
"For the Pakistanis who have been impacted to recover, it will require much, much more in terms of resources than are currently available, and definitely it will require time."
But some are still waiting to see any signs of progress at all.
On the outskirts of Charsadda we find a camp full of those who were forced out of their homes by the floods.
For an entire year, Farman Ali, 46, his wife, his seven children and his 62-year-old mother have been living in a tent at the same spot.
Their house was destroyed, and in the desperation of saving themselves, they lost everything they owned.
Immediately, they became totally reliant on charity, but now that has dried up they feel in an even more degrading situation.
"The last aid we received was six months ago, when we got some basic food rations," says Farman. "Since then we've been relying on handouts from local people."
"My children frequently get sick but no doctors come to the camp any more. We just want to rebuild our house and get back to normal."
'More vulnerable'
He takes us to the site of his old home.
Only one room is still standing, but even that has walls which look to be on the verge of collapse.
In a year of desperately trying to save money to re-build his home, he has only managed to collect enough to lay the foundations for one more room. Everything else has had to go into feeding his family and buying all the new clothes and possessions they have needed to survive.
As we return to the camp where Farman Ali lives, it starts to rain. Water is already collecting on the ground close to the tents. On top of everything, Farman is expecting more flooding.
Whether it is through their grief or their homelessness or loss of livelihood, millions are still struggling to recover from last year's floods.
That, the UN warns, makes them all the more vulnerable as the new rainy season begins.