US military chief Mike Mullen takes the heat in Afghanistan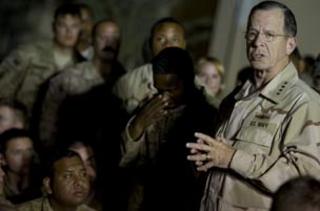 Summer in southern Afghanistan is blazing hot in every way; temperatures soar and the fighting season reaches its peak.
But this year it really is boiling hot.
We landed at midnight at Kandahar military airfield, on aircraft bringing the top US military advisor Admiral Mike Mullen and his team to take the temperature here.
Even at that hour, the blazing heat of the day still lingered.
In recent months audacious Taliban attacks have killed leading Afghan figures and key US allies.
It has left Afghans anxious and uncertain at a time when the US is preparing to pull out the 33,000 extra troops it put on the ground last year.
The chairman of the Joint Chiefs of Staff tried to take some of the heat out of that worry.
Slower drawdown
"We expected these kind of spikes in the campaign including spectacular assassinations," Admiral Mullen said matter of factly just before boarding the C-32 military plane that took him from the seat of American power to America's battle in southern Afghanistan.
"They are not surprising," he emphasised.
Just days ago, Kandahar Mayor Ghulam Haider Hamidi was killed by a suicide bomber in broad daylight.
In neighbouring Uruzgan province, an assault involving multiple suicide bombings killed at least 17 Afghans, including BBC reporter Ahmed Omed Khpulwak.
"This campaign has been tense and worrying for years," Admiral Mullen told me as he strode across the tarmac at the Andrews Air Force base just outside Washington. "We are moving in the right direction," he insisted.
But there was also a note of caution. The gains from the past year of intensified, US-led military operations, including targeted killings, were "fragile and reversible."
That is the catchphrase now used by senior US military officers, including the last commander here, General David Petraeus who will soon take up his new post of CIA director.
Admiral Mullen, the US President's most senior military advisor, is known to have preferred a slower drawdown of US forces than the plan recently announced. 10,000 US soldiers will leave this year, and another 23,000 by the end of 2012.
Power broker
But now his job is to carry it out. He pointed out that by the end of next year, there would still be 68,000 US soldiers in Afghanistan.
That is double the number when President Barack Obama took office.
He also mentioned forces from the Nato coalition as well as a "significant build-up" of Afghan National Security Forces.
Asked about Afghans' nervousness over the timing of the pull-out, he said he was "confident there were enough forces to reassure" them.
The US's key ally and main power broker in the south, Ahmed Wali Karzai, the President's half brother, was recently assassinated by his own bodyguard.
His death left a dangerous power vacuum, but one senior US military source said opinion was divided on its impact.
"He worked with us on some issues, on others he was obstacle; for example, when it came to improving governance."
Magic trick
Aggressive clearing operations over the past year, and a massive injection of American aid, have pushed the Taliban back from many districts.
US officials portray suicide bombings as signs of Taliban weakness. But for many Afghans these brazen attacks confirm the insurgents' ability to confront more conventional military might.
As on the many other trips he has made to this region, Admiral Mullen will be briefed by senior commanders and also hear from more junior officers about the challenges they are facing in this fight.
He has also brought some American entertainers with him "to bring a smile to their faces" including popular television comedian Jon Stewart, basketball legend Karl Malone, and world famous magician David Blane, who told me he was bringing a "lot of amazing magic".
I asked if he had a magic trick that could bring peace. "I want to bring peace everywhere," he replied with a broad grin. "That's why I like doing magic."
For the past four years, Admiral Mullen, who ranks as President Obama's top military advisor, has travelled to southern Afghanistan in the baking heat of summer so he can experience the gruelling conditions for his troops on this key battleground in the Taliban's main stronghold.
This is expected to be the admiral's last visit to see the soldiers in the field before he retires in two months.
But he brushed aside any notion this was a "farewell tour." He knows a lot can still happen in this hottest of seasons in Afghanistan.