Three killed in train crash in India's West Bengal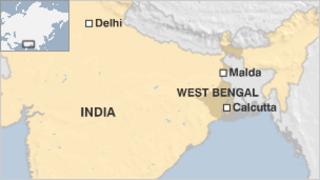 At least three people have been killed and 200 injured in a train collision in the Indian state of West Bengal.
Officials said the accident happened when the engine and some coaches of the Guwahati to Bangalore express derailed and were then hit by another train.
The crash took place in Malda district about 350km (210 miles) north of Calcutta.
This is the third serious rail accident in northern India this month.
The express train "suffered the derailment of one engine and six coaches," said Amil Saxena, a spokesman for the railways ministry.
"After derailing, the coaches were thrown into the path of the oncoming Azimgarh-Malda express. It came after about four to five minutes. It seems the driver was alert and he tried to put on the emergency brakes."
Some passengers are reported to be trapped in the wreckage.
Accidents are common on the state-owned Indian railway, an immense network connecting every corner of the vast country.
It operates 9,000 passenger trains and carries some 18 million passengers every day.