New session of Indian parliament hit by graft row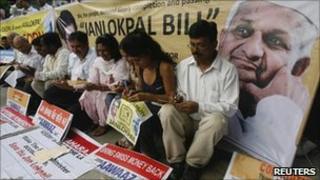 The new session of the Indian parliament has shut down within hours of opening as opposition politicians shouted angry anti-corruption slogans.
Corruption and rising food prices are expected to dominate the monsoon session which began in Delhi on Monday.
Opposition parties have said inflation will be another key topic for debate. They are expected to focus on the multi-billion dollar telecoms scandal.
The Congress party-led government has said it is ready to discuss corruption.
But correspondents say that opposition politicians forced the shutdown within minutes, a sign that little progress is likely to be made in passing reforms to accelerate growth in Asia's third-largest economy.
The recent Mumbai (Bombay) blasts, Maoist violence and farmers' rights are other issues likely to come up in the new parliamentary session.
Before it began, Prime Minister Manmohan Singh said he hoped the session would be "constructive and productive".
The opposition has said it will target the government on issues ranging from corruption within the government to price rises.
"We are not afraid of discussing issues of corruption. The opposition also has too many skeletons in its cupboard. We are not afraid of discussing any issue," Mr Singh told reporters on Sunday.
The government has been on the back foot for months with serious allegations of graft.
But in recent days, allegations of corruption against the opposition Bharatiya Janata Party-led government in the southern state of Karnataka have come as a big boost to the Congress party.
The government has said it intends to introduce and pass more than 30 bills in this session, including a bill to set up an anti-corruption ombudsman and another to provide subsidised foodgrains to the poor.
Some of the recent corruption scandals to have rocked the government include the telecoms scam, alleged financial malpractices in connection with the Delhi 2010 Commonwealth Games and allegations that houses for war widows were diverted to civil servants.
Critics of the government say that recent scandals point to a pervasive culture of corruption in Mr Singh's administration - adding to the difficulties of a politician once seen as India's most honest.