Afghan policemen 'killed in Nato bombing'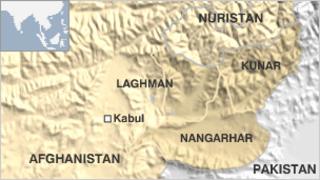 Four Afghan policemen were killed after Nato forces bombed their post in the eastern province of Nuristan, the provincial governor told the BBC.
Jamaludin Badar said the incident took place in Wama district late on Sunday night, when coalition forces bombed their highway police post.
The post provides security along the highway linking Nuristan to the province of Kunar.
A Nato spokesman said the alliance was investigating the incident.
Mr Badar said 12 policemen were detained by coalition forces after the strike even though an Afghan flag was flying over the post and the men were all wearing uniform.
Nato said it was "aware of a statement from Afghan officials in Nuristan province alleging a friendly fire incident in eastern Afghanistan" and that it was investigating the report.
On Sunday the Afghan army and police - with air support from their Nato allies - broke a three-month-old Taliban-imposed blockade of Nuristan, allowing food supplies to get to the provincial capital of Paroon.
Nuristan has seen fierce fighting between the security forces and various insurgent groups including al-Qaeda fighters.
The BBC's Bilal Sarwary in Kabul says that the writ of the government does not extend to this remote and mountainous province.
Earlier this month at least 78 people were killed in heavy fighting in the province between the Taliban and security forces.
Officials in Nuristan say they have repeatedly warned of the worsening security situation. They accuse the government and Nato of failing to act, claims the authorities reject.