India panel resumes priceless treasure inspection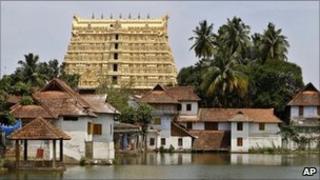 A panel of experts appointed by an Indian court has resumed its inspection of priceless treasures recently unearthed from the vaults of a temple.
The inspection at the Sree Padmanabhaswamy temple in Kerala was suspended last month when inspectors could not open the last vault.
The vaults contained a huge collection of precious stones, gold and silver worth millions of dollars.
Five of the vaults have been opened and the contents itemised.
Experts have the huge task of assessing their value.
A sixth and more secure vault remains closed while officials determine how best to keep the items safe.
They are also responsible for cataloguing the treasure, which was not done earlier.
"We have decided to conduct a thorough valuation of the articles," said Ananda Bose who heads the inspection panel.
It has been forced to defend itself against protests by right-wing Hindu groups such as Shiva Sena - who are against opening the vaults and filming the precious things collected there over the centuries.
Correspondents say that the inspection may take several days as experts have to fix the value of every item, many of them priceless antiques. The wealth also includes foreign currency and precious metals believed to be earned by the maharajas through the spice trade.
Local legend has long held that vast riches were interred in the walls and vaults of the temple by the Maharajahs of Travancore over many years.
Historians say it is almost impossible to assess the value of the objects, but officials have said it could be more than £12bn ($20bn).
Neither the state of Kerala nor the descendants of the Travancore royal family have made any claim on the treasure, which they say is the property of the temple and its deity.
But the discovery has sparked a public debate, with many believing the items should be put in museums or sold and the profits used for the public good.
Security has since been stepped up at the temple, which is now one of the richest in the world.