Nato investigates BBC reporter's death in Afghanistan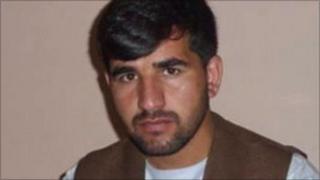 Nato-led forces in Afghanistan have launched an investigation into how a BBC journalist was killed in the southern province of Uruzgan last week.
Pashto service reporter Ahmed Omed Khpulwak was one of at least 19 people, including 12 children, killed during a suicide bomb attack and gun battle.
It was initially reported that the journalist was killed by insurgents.
The BBC asked for the inquiry when conflicting reports later emerged as to who had fired the fatal shots.
The International Security Assistance Force (Isaf) says that on completion of the investigation, it will brief Khpulwak's family.
"Isaf assesses every civilian casualty allegation to determine the facts and help prevent similar incidents," a statement said.
"Each incident is reviewed by senior leaders to ensure the right direction and resources are in place to prevent further civilian casualties."
Khpulwak, who was 25, was one of a number of people killed when a TV and radio station was attacked in the town of Tarin Kowt.
The fighting around the town's market followed three suicide bombings.
Residents said heavy machine guns, rocket-propelled grenades and assault rifles were used by both sides. Afghan government forces received air support from Nato.
The Taliban have said they carried out the attacks but denied having killed the reporter. They accused government forces of having shot him as they fought to regain control of the area.
A local news agency has suggested he was killed by US troops.
Khpulwak's brother says he sent him two text messages. The first read: "I am hiding. Death has come." In the second, he wrote: "Pray for me if I die."
Khpulwak, who also worked for the Pajwak Afghan news agency, had joined the BBC as a stringer in 2008.