Afghan suicide blast kills Kunduz guards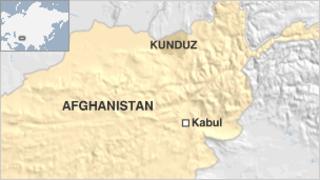 Three guards belonging to a private security company have been killed in a suicide attack in northern Afghanistan.
The incident happened near a building in Kunduz city when a suicide bomber blew himself up at the entrance.
Two other militants entered the building and engaged in a firefight with security forces, which left nine others injured.
Kunduz province was once a relatively quiet part of the country but has become more unstable in recent months.
One report said that the attack targeted a guest house, where a number of foreigners were living. The foreigners, the report added, escaped through the rear of the building.
Another report said the attackers targeted a building that housed the headquarters of the security firm.
"We heard a very big explosion that shook all of Kunduz," Ahmadullah, a local shopkeeper, told the Associated Press news agency.
"It was a very strong explosion."
Local officials told the AFP news agency that the firefight between the security forces and the two militants who entered the building finished after the latter blew themselves up in "quick succession".
In June three civilians were killed and 11 others wounded in a suicide car bomb attack on a German military convoy near Kunduz city. The Taliban said they carried out the attack.
During the same month, three policemen died after a suicide bomber blew himself up near a mosque in Kunduz.
Afghanistan has seen a series of attacks in recent months by militants on police and military targets.