US 'working to resolve Pakistan travel curbs on envoys'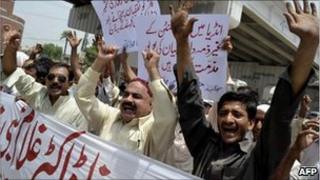 The United States says it is working with Pakistan to resolve a dispute over travel curbs it says Islamabad has imposed on US diplomats.
US diplomats were prevented last week from travelling between Islamabad and Peshawar, State Department deputy spokesman Mark Toner told reporters.
He did not rule out US imposing similar restrictions on Pakistani diplomats.
The spat is the latest among incidents which have strained relations between Washington and Islamabad.
The killing in Pakistan of Osama Bin Laden by US forces in May angered many in Pakistan, and left US officials questioning whether Pakistani intelligence had known about the al-Qaeda leader's whereabouts.
Since the raid, there have been a number of arrests in Pakistan of people alleged to have worked with US intelligence.
And last month, Pakistan accused the US of slander against Islamabad over the arrest of a Kashmiri-born man accused of acting as an ISI agent in Washington.
Ghulam Nabi Fai, a 62-year-old American citizen, was accused of working in Washington for the Pakistani spy agency to lobby for Kashmiri independence.
'Making progress'
"There was an incident last week, I believe, where diplomats were prevented from travelling between Islamabad and Peshawar," Mr Toner said at the State Department briefing on Monday.
"And we obviously raised our concerns. We feel that we're making progress towards resolving the issue."
Mr Toner said the officials managed to travel between Islamabad and Peshawar after obtaining "some kind of certificate" from the government.
He said the US ambassador to Pakistan Cameron Munter was also asked to produce the certificate before boarding a plane to Karachi.
He did not have it with him, but was allowed to travel there anyway, he added.
The official did not rule out imposing similar sanctions on Pakistani diplomats in the US.
"Speaking hypothetically or theoretically, reciprocity is always a consideration," he said.
Pakistan is a key ally of the US in its fight against the Taliban and al-Qaeda in the region.
But, a tit-for-tat row between the two countries has been going on for the past few months and the relations touched a new low after the Bin Laden killing.
At the weekend, Pakistan's foreign office denied any "US-specific" restrictions on diplomats in the country. It said, however, there were "general guidelines regarding travel of Pakistan-based diplomats, designed only to ensure their safety and security".
It said it was having "a constructive engagement" with the US embassy on the matter.