India's Jet Airways fined for death of pugs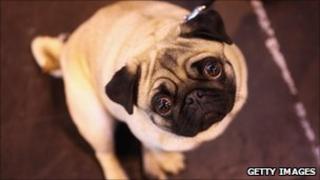 A consumer court in the Indian capital, Delhi, has ordered Jet Airways to pay compensation to the owner of two dogs that died on a flight two years ago.
The airline was told to pay $3,248 (£1,995) to Rajendra Tandon for the "emotional setback" caused by the death of his pet pugs, Batnu and Jimmy.
Mr Tandon had taken the flight in May 2009 from Mumbai (Bombay) to Delhi.
On arrival, he was told that the dogs had died because of a "lack of oxygen". He sued the airline for negligence.
Jet Airways denied the charge. A spokeswoman said they regretted the incident.
"The death of two pugs is a great material and emotional setback and loss to the consumer, who is animal-friendly. Jet Airways must compensate the loss," Times of India newspaper quoted Delhi District Consumer Forum president CK Chaturvedi as saying.
The forum said that it was "the duty of the airline to maintain adequate air pressure in the compartment where the pugs were kept".
The newspaper quoted Mr Tandon as saying that he did not care for the money but instead wanted the guilty punished.
He said he would donate the compensation money to charity.
Pugs became a popular breed of pets in India after one appeared in a hugely successful advertisement for a mobile telephone service.
They are much coveted and sell for more than 50,000 rupees ($1,128; £693).