Karnataka mining scandal: Yeddyurappa faces probe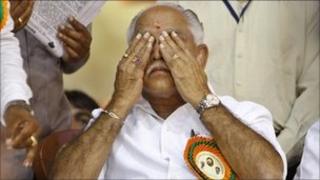 The governor of India's Karnataka state has ordered a criminal investigation against a former chief minister indicted in a mining scandal.
BS Yeddyurappa of India's main opposition Bharatiya Janata Party (BJP) quit as chief minister on Sunday.
An anti-corruption report alleges the scam cost the exchequer more than $3bn (£1.8bn) between 2006 and 2010. Mr Yeddyurappa denies any wrongdoing.
The party named Sadanand Gowda as his successor after a secret ballot.
Correspondents say illegal mining has been rife for years in Karnataka. The state produces about 45 million tonnes of iron ore a year and exports more than half of it to China.
A statement issued by Karnataka Governor HR Bharadwaj said he had "carefully examined" the anti-corruption report and accepted its recommendation for "initiating criminal proceedings" against Mr Yeddyurappa.
This is the second time the governor has sanctioned criminal proceedings against the former chief minister.
In January, Mr Bharadwaj gave the go-ahead for Mr Yeddyurappa, who belongs to the influential Lingayat community, to be prosecuted in a land scam case.
Correspondents say Mr Yeddyurappa's resignation as chief minister could threaten the survival of the BJP's only government in southern India.
The corruption panel report names several other members of the BJP government, as well as Congress and Janata Dal (Secular) politicians in connection with the alleged mining fraud.
The report details what it says is the illegal transport and export of iron ore from the state.
The affair is highly embarrassing for the BJP after months on the offensive against India's governing Congress party, which is itself embroiled in a series of damaging corruption scandals.