US police identify 'gunman' in Ohio killing spree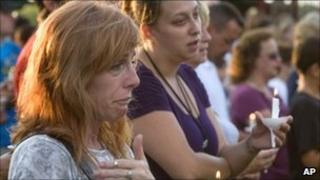 US authorities have identified the man they believe was responsible for shooting dead seven people in Ohio, as more details about the murders emerged.
Michael Hance was named as the gunman in a shooting rampage in the town of Copley on Sunday.
A carer for a couple killed in the spree told police that Hance, who died in a shootout with authorities, was involved in an estate dispute.
Robin Hancock described the 51-year-old as a "quiet and strange" person.
Ms Hancock visited a police station in northern Ohio on Monday to hear information on the slayings.
While there she told police that Hance's confrontational behaviour prompted her to leave her job, the Associated Press reported.
Ms Hancock said Becky Dieter, Hance's girlfriend of more than 20 years, was involved in a dispute with him over her late parents' will.
Ms Dieter was the only victim who survived the attack.
Neighbourhood shooting spree
Ms Hancock said a couple living next door to Ms Dieter became involved in the disagreement and were later killed in the shootings, which took place in multiple locations.
But Copley Police Sgt Eric Goodwin said on Monday that authorities were withholding the names of individuals killed in the spree until they could tell the families of the victims, some of whom were out of town.
Police said Hance shot his girlfriend in one house and ran to a nearby home, where he shot and killed her brother and four neighbours.
Hance then chased four individuals in the neighbourhood, shooting one of them, before heading into another home where he killed an eighth person.
Hance was then killed in a gunfight with police after taking his last victim.