India stock markets 'increasingly volatile'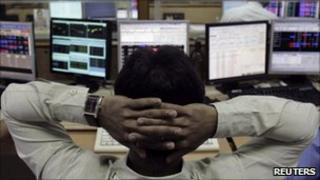 Indian stocks remained volatile on Tuesday over fears of recession in the US and Wall Street losses.
The benchmark Sensex index initially dropped by nearly 3% to 16,484 in early trading, but later recovered to 17,014 points, before again dipping to 16,739.
Shares in software, telecom and property companies were among the worst hit by ongoing uncertainty.
However, the government said that India's fundamentals were strong enough to weather the crisis.
Indexes in some parts of Asia are seeing their value drop to the lowest levels in many months.
The broader Nifty index, traded on the National Stock Exchange, slipped below the 5,000-mark for the first time since June 2010 in opening trade.
However by Tuesday afternoon the Nifty had climbed back to 5,135 points, before sliding back to 5,047 points.
Shares in some top Indian companies dropped during the early trading. Tata Motors fell 3.8%, Infosys was down by 3.2%, Wipro shed 3.8% and Tata Steel slipped 2.9%.
Finance Minister Pranab Mukherjee said "there is a problem but we have the strength to to overcome it".
"Some of the investment banks have upgraded India to market weight. That means our basic fundamentals are strong and macro-economic recovery is moving towards positive directions," Mr Mukherjee said.
Mr Mukherjee said that he expected oil and commodity prices to come down which would help manage inflation.
Investors have been dumping stocks across all industries in the US and Asia.
India has been one of the fastest growing economies in the region over the past few years and it is expected to grow by close to 8% this year.
While India has been expanding, developed economies such as the US and Europe are still struggling to fully recover from the effects of the global financial crisis.
They have also been hit by newer developments such as the debt issues in the euro zone.