Police carry out Kashmir army and police arrests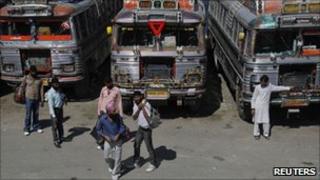 Police in Indian-administered Kashmir have arrested a number of army personnel and policemen.
The arrests follow separate incidents - the death of a man in custody and an alleged staged killing.
Police on Sunday said that a top militant had been killed. But now they say that the dead man was a civilian killed in a faked gun battle.
In a separate incident a shopkeeper died after being detained by police in the northern town of Sopore.
The cause of his death was not disclosed.
But anger over it resulted in a one-day strike across the Himalayan state.
Jammu and Kashmir Chief Minister Omar Abdullah said there would be "swift and exemplary action" in the case.
"Two policemen have been arrested and a few others are under the scanner," a police officer told the AFP news agency on Monday.
Mr Abdullah also said that the authorities were also investigating the case in which a civilian was killed and then apparently passed off as senior commander of the Lashkar-e-Toiba militant group.
He said that a local soldier and a policeman were arrested on Monday for making the security forces believe the civilian was a militant.
"Both have been charged under section 302 amounting to murder. We will ensure that the law follows its own course," Mr Abdullah said.
He said that the two had confessed to misleading the security forces.
Human rights groups have said that the policy of giving rewards for killing militants have led to abuses in the past.
They argue that for years the army and police have killed innocent civilians in staged killings.
In 2007, seven police officers were arrested on charges that they killed civilians in staged gun battles and claimed the victims were militants in order to get rewards and promotions.