Nato accused of killing four Afghan policemen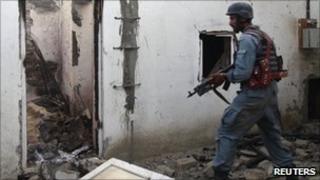 Afghan authorities have accused Nato troops of killing four policemen by accident in one of the most dangerous Taliban strongholds in the south.
Three policemen were injured during the gun battle which took place on Tuesday night.
The international mission in Afghanistan, Isaf, has launched an investigation.
The gun battle took place when foreign soldiers opened fire on the police, perhaps mistaking them for insurgents.
The police returned fire, two were killed on the spot, another two died later in hospital.
The district governor's office says the gun battle took place at a police outpost.
Some reports indicate that the men killed were members of the Afghan Local Police, an anti-Taliban initiative that recruits officers from local communities.
The incident took place north of Kandahar city in a traditional Taliban stronghold. There was heavy fighting in the area last year.
Isaf confirmed that an incident had taken place and said that further details would be released following its investigation.
The Afghan government has frequently criticised Nato troops over friendly fire incidents and operations.