India: Gujarat policemen charged with misconduct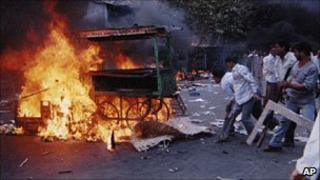 The government of the Indian state of Gujarat has charged two top policemen for their role in riots of 2002.
The policemen helped an investigation into the alleged links between officials and the riots. They have been charged with misconduct.
More than 1,000 people, mostly Muslims, died in the disturbances.
The violence erupted after 60 Hindus died in a train fire. The cause of the blaze was never established. Hindu groups say it was started by Muslims.
But one inquiry said the blaze was an accident.
Deputy Inspector General Rahul Sharma was the second police officer this week to be charged with misconduct.
He is in trouble for allegedly handing over the records of officials' telephone calls to a committee investigating the 2002 riots, without first getting permission from his seniors.
These telephone calls were made during the eight days of the riots, which resulted in some of the worst violence seen in post-independence India.
On Monday another senior officer who has handed over evidence apparently linking officials to the crimes was suspended.
Sanjeev Bhatt has been accused of not reporting to work for nearly 10 months.
Last week he gave the Indian Supreme Court copies of emails which he claimed showed that a senior government lawyer had helped defend some of the accused.
The Supreme Court set up a panel to investigate the riots in 2008, after allegations that the Gujarat government was doing little to bring those responsible to justice.
Gujarat Chief Minister Narendra Modi has denied any wrongdoing and the allegations are still being investigated.