French soldier killed in Afghanistan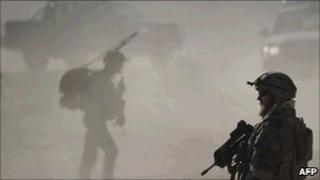 A French soldier has been killed and four wounded in the Afghan province of Kapisa, north of the capital, Kabul.
The soldiers were travelling in an armoured convoy when they were hit on Thursday, news agency AFP quoted the French presidency as saying.
An improvised explosive device blew up the vehicle in the Tagab region, the statement said.
France has some 4,000 troops in Afghanistan and 73 of its soldiers have died in the country since 2001.
Also on Thursday, five US soldiers were killed by a roadside bomb in southern Afghanistan, the US-led International Security Assistance Force (Isaf) said.
The Taliban said they carried out the attack in the Sangin area of Helmand province.
Foreign troops are routinely targeted by the Taliban and al-Qaeda insurgents in Afghanistan.
More than 50 foreign service personnel have been killed so far this month.