Bodies of abducted Afghan officials found in Wardak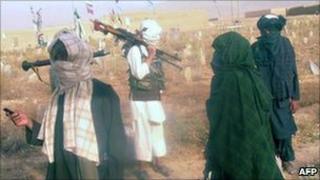 The bodies of eight abducted Afghan security officials have been found in the east of the country.
The three intelligence officers and five policemen went missing on Thursday in Wardak, where 38 died when militants shot down a US helicopter last week.
Meanwhile, five family members were killed by a roadside bomb in Helmand.
The three women and two men were travelling by mini-van towards Lashkar Gah, the southern province's capital, when they hit the bomb.
There has been an increase in civilian deaths in Afghanistan this year, many caused by roadside bombs planted by the Taliban and al-Qaeda insurgents.
Afghan security forces and foreign troops are usually the intended targets.
Taliban targeted
Wardak provincial spokesman Shahidullah Shahid said the bodies of the eight security officials had been found in the Koti Ashoro area and taken to the provincial capital city of Maidan Shahr.
Three suspected insurgents had been arrested in connection with the kidnapping and killings, AP quoted Mr Shahid as saying.
Many of those killed in Saturday's helicopter crash were members of Seal Team Six, the elite special forces unit whose members undertook the May raid into Pakistan that killed al-Qaeda leader Osama Bin Laden.
There are some 140,000 foreign troops - about 100,000 of them American - in Afghanistan. They are fighting the Taliban and training local troops to take over security.
The US said an F-16 air strike on Monday had killed a Taliban leader and the insurgent who fired at the Chinook.