Pakistan convicts seven over Rawalpindi army HQ attack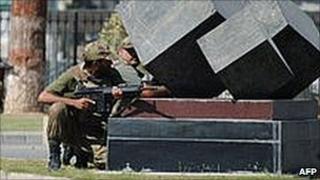 A military court in Pakistan has convicted seven people over an attack on army headquarters in the garrison city of Rawalpindi in 2009.
A former soldier was sentenced to death and six other people, five of them civilians, received prison sentences.
Eleven soldiers were killed when a group of militants wearing suicide vests stormed the headquarters.
The incident made international headlines and was hugely embarrassing for Pakistan's security forces.
The military court sentenced a retired army sepoy named as Aqeel, alias Dr Usman, to death, while another former soldier, Imran Siddiq, was given life imprisonment, Pakistani media reported.
Three civilians also received life sentences and two others were jailed for 10 and seven years respectively.
The civilians were convicted for helping the attackers, the Pakistani Express Tribune reported.
In the 2009 attack, militants seized hostages and held off army commandos for several hours.
Troops eventually freed 39 hostages, but 23 people were killed, including 11 troops, three hostages and nine attackers.