Prison vigil for India's anti-corruption crusader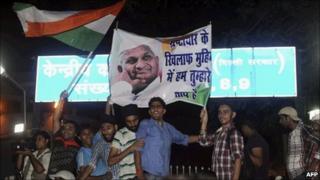 Delhi's Tihar Jail is a high security facility in which you will find drugs lords, militants and other prisoners including - over the past year - top government officials accused of corruption.
Its latest inmate is Anna Hazare - the anti-corruption crusader with a Gandhi-like zeal who is thoroughly embarrassing the government.
Outside the prison's high walls, the narrow lanes are choked with people.
Hundreds of them have taken up every available space, chanting, singing and waving giant Indian flags.
These are Mr Hazare's supporters, angered at the government's move to send him to prison and determined to persuade the authorities to release him.
"Isn't it ironic that the man who is fighting corruption is put in the same prison as those very corrupt officials he is trying to bring to justice," one elderly man said. Several others around him nodded in agreement.
Many of the people here have spent the night outside the prison, holding a vigil in solidarity with the 74 year old who has apparently refused all food and camped in the office of the prison chief.
"Anna carry on with your struggle, we are with you," the crowds chanted outside.
'Showing support'
Within minutes, one section broke into an Indian rendition of the US civil rights song, We Shall Overcome.
A large number of the protesters were college students, dressed in jeans and T-shirts and passionate in their support.
"It is really, really important for us to come out and show our support for Anna," says Rupali, a social science major at Delhi University.
"The message must go out that as Indians, we will not tolerate corruption."
Others included office workers who had chosen to skip work.
"Every institution in this country is corrupted," says Manju, an airline employee.
"You have to bribe for the most basic things. I had to pay thousands of rupees just to get my passport. And all these government officials sit there and do nothing."
Passions are high, especially with conflicting reports that Mr Hazare may be released soon.
Cheers ring out every time someone emerges from the prison gates, the crowd straining impatiently.
"Let him out, let him out," roars one man and the cry is soon picked up by others.
On what is also an unbearably humid day, volunteers hand out water and bananas.
The heat gets to one older man and he falls to his knees. Three young men rush to his aid and help him to the side.
"We will stay here as long as it takes," another man who was standing next to him stays.
"As long as it takes for the government to let him go."
Round one, it appears, has been won by the Hazare camp.