Pakistan ex-MP Waja Karim Dad dies in Karachi violence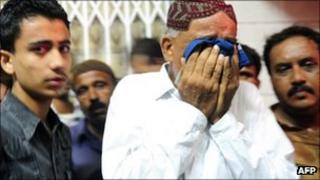 At least 13 people, including a former parliamentarian, have been killed in ongoing politically-motivated violence in Pakistan's southern port of Karachi.
Waja Karim Dad, a senior leader of Pakistan's ruling PPP political party, was shot in the Lyari neighbourhood.
The attacks happened as Karachi's main party, MQM, said it was rejoining the national PPP-led coalition government.
It had left after accusing the majority partner of not doing enough to stop violence in the business capital.
At least 300 people were killed in such attacks in Karachi in July.
Mr Karim Dad was sitting in a roadside cafe when gunmen on motorcycles sprayed it with bullets.
It was a busy time, with shops having opened late due to the daily fast for the Islamic month of Ramadan ending minutes earlier.
Several bystanders were also wounded in the attack, which killed the former parliamentarian instantly.
Reloaded weapons
Witnesses who fled the carnage said the gunmen calmly reloaded their weapons and then targeted another cafe a few hundred metres down the road.
Locals say no police or paramilitary law enforcement personnel were available to confront the gunmen, despite the police station being nearby.
The killings were preceded by a grenade attack which claimed the lives of two children in a nearby housing compound.
Angry citizens have taken to the streets and set several vehicles ablaze, as reports of more attacks continue to filter in.
The killings in Karachi have continued despite efforts to reconcile its warring political factions.
Security officials say this is because the killers are being protected by senior politicians.
They say the violence is being used to stoke recently ignited ethnic passions both for political gains and as a means by criminal gangs to fight turf wars behind the facade of political activism.
Many people say the government is a silent spectator here, as armed gangs run riot over Pakistan's most important urban centre.