Mumbai tiffin carriers join anti-graft protest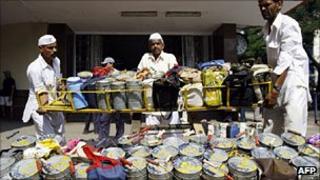 The famous tiffin carriers of India's Mumbai city are on strike for the first time in their history in support of Anna Hazare's anti-corruption campaign.
The tiffin carriers - also known as dabbawallahs - collect lunch boxes from the homes of nearly 200,000 people and deliver them to offices and factories.
Tiffin is an old English word meaning midday snack.
Mr Hazare is due to begin a 15-day hunger strike in the capital, Delhi, later on Friday.
He wants to force the government to strengthen an anti-corruption bill, which he regards as too weak.
The 5,000 dabbawallahs of Mumbai are the latest group to join country-wide protests in support of Mr Hazare's campaign.
Reports say they will hold a rally in Mumbai during their one-day strike.
"We declare our whole-hearted support to Anna Hazare's cause," Raghunath Megde told the BBC's Zubair Ahmed in Mumbai.
The dabbawallahs earn up to 8,000 rupees ($174; £106) a month.
Mr Megde says their conditions have not improved "despite India's economic progress".
"The rich are becoming richer and the poor are becoming poorer. This is because of rampant corruption," he said.
Mumbai's dabbawallahs have gained international recognition for their efficiency.
A unique tracking system ensures that all the lunch boxes reach their rightful owners in time, recently earning the service a rating of 99.99% for precision and accuracy from Forbes magazine.
The tiffin carriers have received international recognition for their supply chain management and even attended Prince Charles' wedding in 2005.