Policeman lynched in Sri Lanka town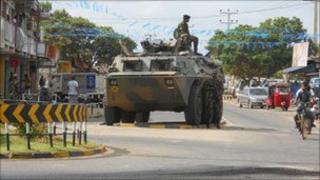 A policeman has been killed by angry residents of a town in north-west Sri Lanka in a vigilante attack sparked by fear of nocturnal prowlers in the area.
The prowlers, known as "grease devils", have been accused of assaulting women at night in recent weeks. Residents say the security forces are involved.
The policeman was hacked to death in the town of Puttalam and there were also clashes elsewhere on Sunday night.
The police deny wrongdoing and the army has set up two new posts in the area.
"As several Muslim groups in the east tried to disrupt peace, we had to deploy a brigade for security," government spokesman Lakshman Hulugalle told BBC Sinhala.
"However, police will be in charge of civil administration and law and order in Puttalam and the east," he added.
He said that 47 people have so far been arrested in connection with the "grease devil" attacks adding that the government can deploy the military "whenever necessary under the prevailing emergency regulations."
Most of the attacks have taken place in rural Muslim and Tamil-majority areas in northern and central parts of the island. People in the affected areas have responded to the assaults by launching vigilante attacks.
Residents have accused the police of releasing suspects captured by townspeople without charge.
"Even when we make a small noise, the police are on the spot. We are suspicious about the police. We are asking them not to come to our villages," a woman in Batticaloa district told BBC Sinhala.
But a police spokesman told the BBC that the allegations are "baseless."