Viewpoint: The crisis facing Indian cricket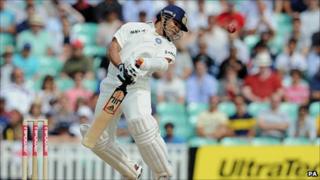 India arrived in England as the top Test side in the world. They lost the marquee series 4-0, including two defeats by an innings. Sports writer Suresh Menon analyses what went wrong.
Despite the best efforts of captain Mahendra Singh Dhoni and chief selector Krishnamachari Srikkanth it is not easy, or right, to wish away India's debacle in England as "one of those things".
Indian cricket is in crisis, and that's not a bad thing.
Crises bring into sharper focus the fuzzy edges of problems ignored and steps not taken.
It is not the players above the age of 36 (with the exception of Rahul Dravid, of course) who looked out of sorts; that decline was expected despite a nation being in denial.
It is those in the early 30s, men who ought to be making the transition easier, who have been found wanting.
One-bowler team
India have been a one-bowler team for too long now, and when that bowler, Zaheer Khan, 32, broke down in the first Test at Lord's, the dream was effectively over.
Harbhajan Singh, 31, despite his 400-plus wickets has been on the wane as a Test bowler, his position protected by his past record and a late-blooming batting skill.
This was probably one of the most unfit teams India had on the field in recent years. Some of that was sheer bad luck, as when Gautam Gambhir was hit while fielding.
But some of it was the result of assumption that when you are not playing, you are not expected to stay fit.
Virender Sehwag might have been pushed into action too soon, but his chin has already put out a second edition, and his movements on the field seemed to reflect his age. At 32, it could be that his best cricketing days are behind him.
And then there was RP Singh, who was on holiday in Miami when the call came to join the team. He seemed to be extending the vacation in England.
Only after Ishant Sharma was forced to return was a call made to Varun Aaron, a fast bowler who was successful in the Emerging Players' Tournament in Australia.
By playing down the importance of finding replacements for the middle order, by making a mess of injury management, by forgetting that Test cricket requires a different set of skills than those demanded by Twenty20, by displaying the hubris that comes from money power and refusing to learn the lessons of past failures, India were laying themselves open to the kind of thrashing they received in England.
Not prepared
What happens now?
Do the money-hungry authorities decide that since India are no longer the number one team in the world, they should ignore Test cricket and focus on further money-making in the Indian Premier League (IPL)?
As one cricket-watcher has pointed out, the Indian team were preparing for a major tour of England by playing with a white ball, from before the World Cup until the end of the IPL.
That is five months without a sight of the red ball which is a completely different animal altogether, and in conditions where swing and seam rule.
It would have been a travesty had India won despite doing everything wrong.
The gods of cricket were angry.
"Did you cherish the number one spot?" former England captain Mike Atherton asked Dhoni after the third Test.
The fact is, India didn't.
And they continue to believe it was just "one of those things".
This is the danger. History has a way of repeating itself if it is allowed to.