Anna Hazare: India MPs urge end to hunger strike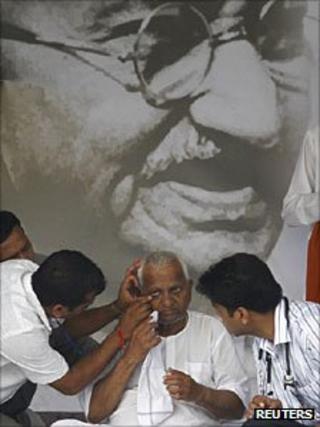 Politicians from across India's main parties have appealed to anti-corruption activist Anna Hazare to end a nine-day hunger strike.
Officials from the parties made their plea after meeting Mr Hazare's aides to discuss his demands for a beefed-up anti-corruption bill.
Prime Minister Manmohan Singh had already appealed to Mr Hazare to end his public demonstration in Delhi.
The activist's aides say he has lost more than 5kg (11lbs).
Mr Hazare, 74, has refused doctors' advice to be put on an intravenous drip to help him rehydrate.
'No turning back'
Both Mr Hazare's side and the government said Wednesday discussions were "productive" - but they declined to go into details.
"There is no resolution as of now. Talks are continuing. There will be further discussions," one of the aides told the Doordarshan news channel.
Correspondents say that while there was unanimity among all the political parties for him to end his hunger strike, many at the meeting complained that his demands would undermine the sovereignty of the Indian parliament.
Mr Singh, who met all parties in parliament on Wednesday, told the meeting that Mr Hazare's supporters were demanding the government pass their proposed anti-corruption bill within four days.
"Recent developments have raised issues related to the functioning of our parliamentary democracy that concern all of us," he told the politicians, saying he was seeking their "guidance on the way forward."
Earlier Mr Hazare said that the government's intentions were not good.
"So I have decided until my last breath, until the government gives in to this issue, I will not turn back. I don't care even if I die," he told his followers who had gathered at Ramlila grounds in Delhi to support his fast.
In a letter addressed to Mr Hazare on Tuesday, the prime minister said he was committed to drawing up the best possible law, and to do it as quickly as possible.
Mr Singh also asked Mr Mukherjee to negotiate with the activists.
In April, Mr Hazare called off a hunger strike after four days when the government said he could help draft legislation to create a special ombudsman, or lokpal - an independent body with the power to investigate politicians and civil servants suspected of corruption.
The final version of the bill was presented in early August, but Mr Hazare and other activists rejected it because it said the prime minister and senior judges would be exempt from scrutiny.
India has recently been hit by a string of high-profile corruption scandals which critics say is evidence of a pervasive culture of corruption in Mr Singh's administration.
A recent survey said corruption in Asia's third largest economy had cost billions of dollars and threatened to derail growth.