India graft: Four MPs are charged over 'rigged' vote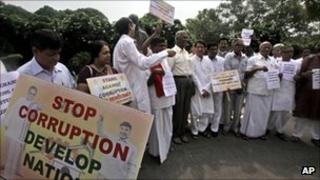 Four Indian MPs have been charged for their role in an alleged cash-for-votes scandal during a crucial confidence vote in 2008, police say.
Amar Singh, Ashok Argal, Faggan Singh Kulaste and Mahavir Bhagora all deny the bribery charges filed on Wednesday.
Mr Singh belongs to the Socialist Party, a Congress government ally at the time of the vote.
The others are members of the main opposition Hindu nationalist Bharatiya Janata Party.
The alleged bribery scandal first surfaced in March when a leaked US diplomatic cable obtained by the Wikileaks website said that the governing Congress party bribed MPs to vote in favour of a controversial nuclear deal with the US.
The charges on Wednesday came as a fast staged by anti-corruption activist Anna Hazare entered its ninth day.
An Indian newspaper published the cable alleging that the lawmakers were paid $2.5m (£1.5m) each to buy their support.
The government denied the bribery allegations soon after the cable's contents were reported.
It has been hit by a series of corruption scandals in recent months.