Is Indian media driving the anti-corruption protests?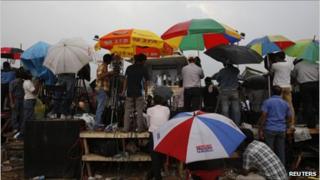 How significant is the role of India's media in its reporting of Anna Hazare's drive to introduce stronger anti-corruption laws?
News channels have been running wall to wall coverage of the protests at Delhi's Ramlila ground and other Indian cities for over a week, prompting debate as whether Mr Hazare's "movement" has become a media circus.
It has also raised questions, senior journalist Kumar Ketkar says, over whether "TV people attending the protests" really represent the views of more than a billion Indians.
Many argue that sections of the media - TV and print - have openly sided with Mr Hazare's agitation and that the neutrality of the media has been seriously compromised.
Colourful
Unquestionably it is true that the agitation is a made-for-media event: a people's protest at the expansive Ramlila ground in Delhi, attended by men and women - young and old - from all walks of life. It is a colourful microcosm of a restless, angry India.
But many feel that the media coverage of Mr Hazare's agitation has reached saturation levels.
Last week, Omar Abdullah, chief minister of Jammu and Kashmir, tweeted that he was "boycotting" TV and newspapers for a few days as he was completely "fed up with the back-to-back coverage of this whole Anna thing".
The editor of India's Mail Today newspaper seems to have sympathy with this view - arguing that the news channels had "gone overboard" in their coverage.
"The coverage needs to be balanced," Bharat Bhushan said.
But others like Rahul Kanwal, editor of the Headlines Today news channel, believe the media is merely capturing a massive movement against graft.
"The media believes that this is a campaign which is resonating with the audiences. So it is simply capturing and reflecting the anger of people coming out on the streets," he said.
Analyst Pushpesh Pant agrees that the media has done a good job.
"They have given equal space to the views of the government and Mr Hazare," he said.
But veteran journalist BG Verghese is not so sure.
"The media has magnified the event beyond its worth... It has not at all been objective in its coverage," he was quoted as saying by the India Real Time website.
'Taking sides'
Writing on India's leading media watchdog site The Hoot, Archana Venkat said the Indian media - "mainly TV" - was aping their counterparts in the US by "taking sides on every issue worthy of public consumption".
"Covering the Anna Hazare campaign has been no different. Every prominent English news channel has resorted to taking sides on the issue to such an extent that journalists are falling short of putting words in the mouths of the guests they interview," she wrote.
Some sections of the media are now beginning to assess the sweep and quality of their coverage, and appear to be wondering whether it is time to return to the fundamentals of journalism - to tell a story fairly.
Barkha Dutt, head of the NDTV news channel, has tweeted that the time has come for the media to "move beyond the potent symbolism of Mr Hazare's campaign and also scrutinise the ideas and language being used for discourse".
The media, clearly, loves an anti-corruption hunger strike by a folksy, patriarchal activist with a track record of protest.
And the figures show that it is good business too.
Mr Hazare's first hunger strike in April, at Delhi's Jantar Mantar venue, received 655 hours of coverage and mopped up $38m worth of advertising for the news channels, according to Esha News Service, a broadcast monitoring and analysis service.