Pakistan: Nine killed in Risalpur hotel blast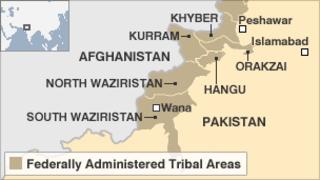 At least nine people have been killed and 12 injured in a bomb blast at a hotel in the north-western Pakistani city of Risalpur, police say.
The bomb exploded in the evening as people were gathering to eat after spending the day fasting for the Muslim festival of Ramadan.
No group has yet said it was behind the attack but Taliban and al-Qaeda militants are active in the area.
There has been a sharp rise in militant attacks in Pakistan since May.
Police told the AP news agency that the attack occurred in the main bazaar in Risalpur - in the Nowshera district of Khyber Pakhtunkhwa province.
They say that it went off as shoppers were buying goods for a forthcoming Muslim holiday.
The explosion destroyed a small hotel in the bazaar, according to police.
Earlier this month 51 people were killed when a suicide bomber blew himself up at a crowded mosque in the north-western Khyber district, the country's deadliest attack for three months.
In June at least 18 people were killed and 30 wounded in a bomb explosion at a bakery in Nowshera, about 50km (30 miles) east of Peshawar.