Twin car bombings in Afghanistan 'leave several dead'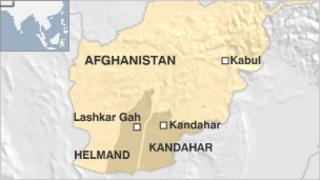 At least four people have been killed and many others injured in two car bombings in neighbouring provinces in southern Afghanistan, officials say.
The first blast happened outside a bank in Lashkar Gah, in Helmand province, where workers were collecting salaries.
It was followed by another blast in Kandahar city. Both are believed to have been suicide attacks.
Control of security in Lashkar Gah was handed from UK to Afghan forces in July as part of a series of transfers.
The blast which hit the Kabul Bank caused casualties among police, soldiers and other government workers.
The BBC's Quentin Sommerville in Kabul says the branch was crowded at the time because it was an especially big pay day, ahead of the festival of Eid.
The Taliban said they carried out the attack, which struck about 160ft (50 metres) from the governor's office in the city, the capital of Helmand province.
The governor's spokesman Dawood Ahmadi said more than 20 people were injured in the blast.
Our correspondent says insurgents often kill civilians, especially those who work for the Afghan government, seeing them as justifiable targets.
In the Kandahar attack, reports say a suicide bomber detonated their explosives inside a vehicle after being shot at by police manning a checkpoint.
At least 13 children were among the injured there, the governor's office said.
Lashkar Gah is one of seven initial areas for which security has been handed to Afghan forces as part of the gradual transition of control from the Nato-led Isaf.
Foreign combat troops are due to withdraw from Afghanistan by 2014.