Omar Abdullah amnesty for Kashmir stone-throwers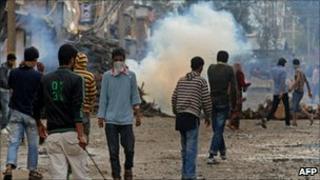 The chief minister of the Indian state of Jammu and Kashmir Omar Abdullah has announced an amnesty for people who threw stones at security forces during anti-government protests last year.
The ruling is expected to affect nearly 1,200 young men.
Mr Abdullah said the amnesty did not apply to people who committed arson and burnt government property.
More than 100 people died in clashes a year ago, most of them shot dead by the security forces.
Mr Abdullah said the amnesty was a "one-time" offer and would not be given again.
He blamed the separatists for instigating young men to commit acts of violence.
"In comparison to last year, there has been a lot of improvement in the situation [in Kashmir]. In that context, we thought we should do something for people particularly the youth who were provoked, used and forgotten later," Mr Abdullah told reporters on Sunday.
Kashmir, which is claimed by both India and Pakistan, has recently seen a drop in violence.
Thousands of people have been killed in the region since an armed rebellion against Indian rule erupted in 1989.