Indian activist Hazare rests after anti-corruption fast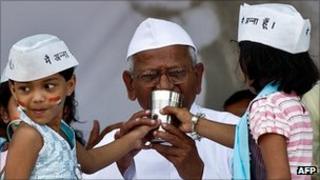 Indian anti-corruption campaigner Anna Hazare has spent a night in hospital after ending a 12-day hunger strike in the capital, Delhi.
Doctors say Mr Hazare's condition is stable and he is on a liquid diet.
Mr Hazare, 74, broke his fast after MPs expressed support for proposed changes to anti-corruption legislation.
Indians have been angered by a string of corruption scandals and Mr Hazare's campaign received widespread support and a great deal of media coverage.
Meanwhile, a Hazare supporter who set fire to himself in Delhi last week has died in hospital, police said on Monday.
Dinesh Yadav, 32, who came from Bihar, had sustained nearly 80% burn injuries.
On Friday, another supporter committed suicide in the western state of Maharashtra. Shubhangi Karande, 34, hanged herself with her sari and left a note saying: "Anna Hazare is on a hunger strike but the government has not taken it seriously."
'Very weak'
Mr Hazare is expected to rest and undergo check-ups for two days.
Doctors at the private hospital in a Delhi suburb say he is "dehydrated and exhausted" and will be given solid food gradually.
"There is a 30% improvement in his condition, which is quite satisfactory," news agency AFP quoted doctor Naresh Trehan as saying.
"Normal recovery would be expected to take two-three days... He is still very weak," he said.
Mr Hazare's campaign to strengthen an anti-corruption bill has received widespread support, with tens of thousands of people attending protests across the country.
The Indian government has been rocked by recent corruption scandals including an alleged telecoms bribery scam that may have cost the country $39bn (£23bn), suspected financial malpractice linked to the Delhi 2010 Commonwealth Games and accusation that homes for war widows were diverted to civil servants.
Critics of the government say the scandals point to a pervasive culture of corruption in Prime Minister Manmohan Singh's administration.
A recent survey said corruption in Asia's third largest economy had cost billions of dollars and threatened to derail growth.
Angry MPs
Separately, Mr Hazare's aide Kiran Bedi and Bollywood actor Om Puri have been accused by MPs of lampooning politicians during the hunger strike.
Ms Bedi had criticised politicians at Delhi's Ramlila ground, the site of Mr Hazare's fast, saying they "could not be trusted because they wore several masks". At the same venue last week, Om Puri described MPs as "illiterate, rustic and useless".
"Look at the way they fight with each other. They throw chairs, mikes at each others," the actor had said.
Mr Puri has now apologised for his remarks.
"I am unhappy with myself over two of the terms that I used. The first is 'uneducated' and the second is 'useless'. I agree I could have used better language, but I was caught in the moment and so used those terms," he told the IBN7 news channel.