Kashmir literary festival is cancelled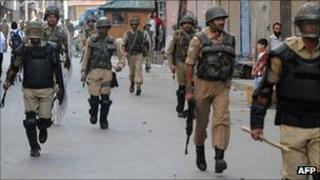 A literary festival in Indian-administered Kashmir has been cancelled due to concerns about possible violence, organisers say.
Organisers said they were concerned about the possibility of protests and the "heightened" nature of the debate.
The move comes after writers called for a boycott saying the festival would give a false impression about freedom of speech in the troubled region.
The three-day event was scheduled to start on 24 September in Srinagar.
"Holding such a festival would dovetail with the state's concerted attempt to portray that all is normal in Kashmir," an open letter signed by several writers, including two of Kashmir's best-known literary figures - Basharat Peer and Mirza Waheed, who also works for the BBC Urdu service - said.
They argue that people in the region are not able to speak freely and that a climate of fear has prevailed there.
But festival organisers said in a statement: "If those opposing the festival truly believed in free speech, they would have allowed this forum to go ahead and would come and express their dissent at the festival."
The statement went on to say that with authors voicing concerns about the potential for violence "we neither have the desire to be responsible for yet more unrest in the valley nor to propagate mindless violence in the name of free speech."
They said they "were left with little alternative but to cancel the festival for now."
The organisers also denied rumours that they had invited Salman Rushdie, author of The Satanic Verses, to the event.
They said they had invited about 30 authors from the state of Jammu and Kashmir and 20 from other parts of India.
Kashmir has been in the grip of an armed insurgency against Indian rule for more than two decades and thousands of people have been killed there.
But the region, claimed by both India and Pakistan, has recently seen a drop in violence.